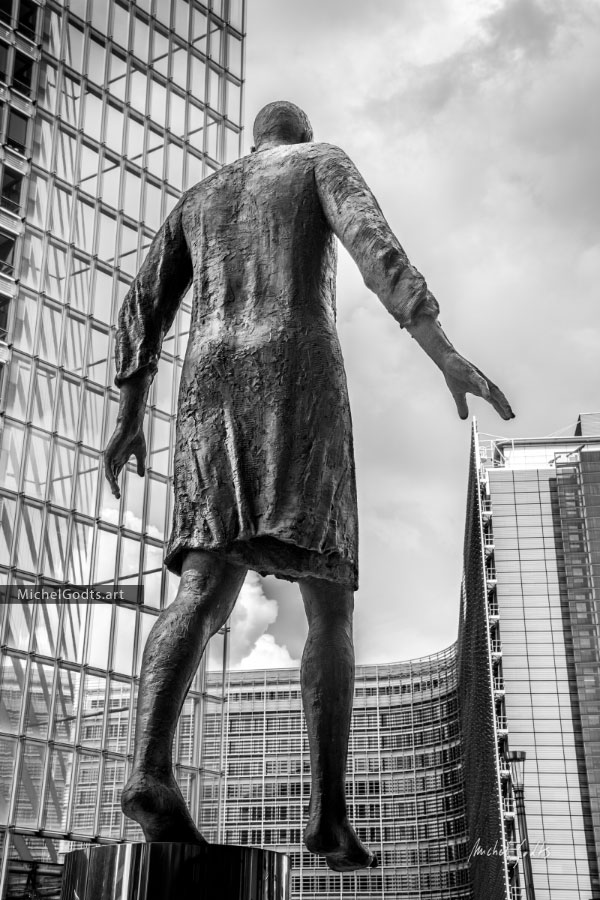 For many, the construction of the European Union (to achieve economic stability, prosperity, peace, and raise living standards) was—and still is—a giant leap of faith—something I hope this photograph expresses, with a monumental figure ready to step forward in the air towards the Berlaymont building, headquarters of the European Commission in Brussels.
This monumental bronze statue (6m, 20ft) is by Hanneke Beaumont, a Dutch-born sculptor living in Belgium. Titled "Stepping Forward," it was installed in 2007 in front of the Lex building in the European Quarter of Brussels.
(Brussels, Belgium, May 2014)
Unsigned Wall Art Prints
Can be purchased at different sizes and on different supports.
Fine art paper prints, framed prints, canvas prints, acrylic prints, metal prints, wood prints

From

$

41

Buy

On my online store
Edition Prints
Signed and numbered prints, provided with a certificate of authenticity. Learn more.
Reproduction License
Interior decor art consultants and curators are welcome to contact me to discuss this artwork's reproduction license, customization, or special application.