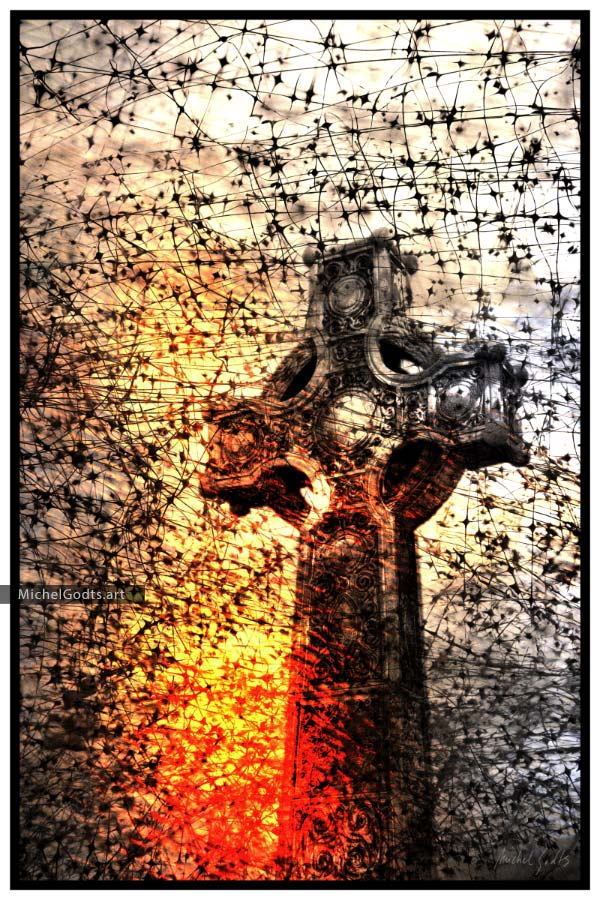 In this artwork the combination of several visual symbols can convey various concepts: the defeat or destruction of Christianity; the end of someone's faith; or, on the other end, the cross can be like a sentinel that protects any attack on Christianity.
The Celtic cross represents Christianity (or Christian faith).
The barbed wire can be seen as a barrier, an obstruction (or a protection depending on the point of view), but also a boundary, a limit or end.
The orange glow can be a sunset (an end) or a fire (destruction). As a sunset it expresses feelings of serenity, calm, peace, and hope for a new day.
Photo composite with digital manipulation. (May 2015)
Unsigned Wall Art Prints
Can be purchased at different sizes and on different supports.
Fine art paper prints, framed prints, canvas prints, acrylic prints, metal prints, wood prints

From

$

41

Buy

On my online store
Edition Prints
Signed and numbered prints, provided with a certificate of authenticity. Learn more.
Reproduction License
Interior decor art consultants and curators are welcome to contact me to discuss this artwork's reproduction license, customization, or special application.