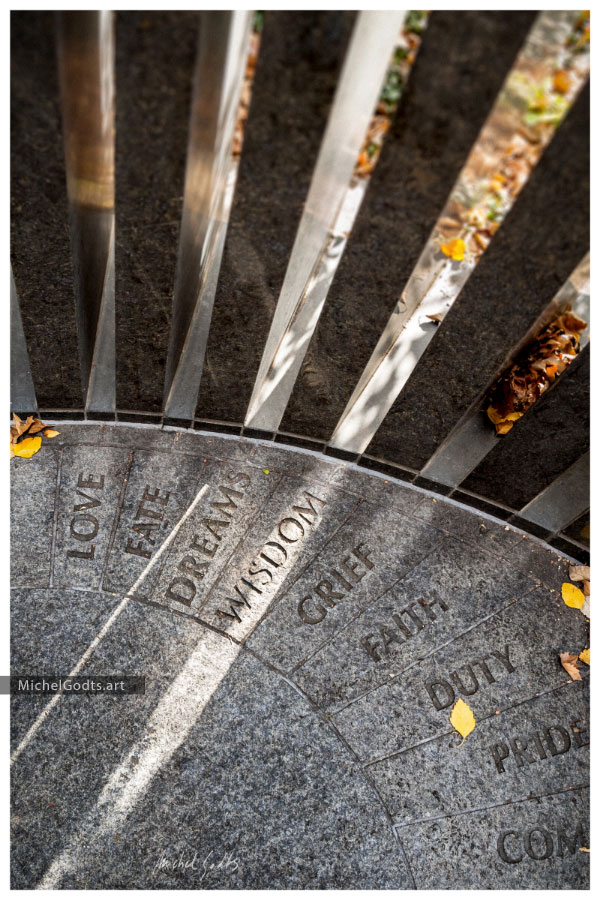 A ray of sunlight highlights the word "wisdom" at the Pittsburgh Korean War Memorial. The memorial monument is made of black marble columns that are positioned and shaped to capture sunlight.
"As the sun travels the horizon, columns of light articulate, sequentially, aspects of the human spirit, experience and feeling. Through solid and void, light and shadow, the sun traces a spectrum of individual and shared experience." —R. Allan Christianson, Memorial architect
Words that we can read in this capture: Love, Fate, Dreams, Wisdom, Grief, Faith, Duty, Pride.
(Pittsburgh, November 2013)
Unsigned Wall Art Prints
Can be purchased at different sizes and on different supports.
Fine art paper prints, framed prints, canvas prints, acrylic prints, metal prints, wood prints

From

$

41

Buy

On my online store
Edition Prints
Signed and numbered prints, provided with a certificate of authenticity. Learn more.
Reproduction License
Interior decor art consultants and curators are welcome to contact me to discuss this artwork's reproduction license, customization, or special application.