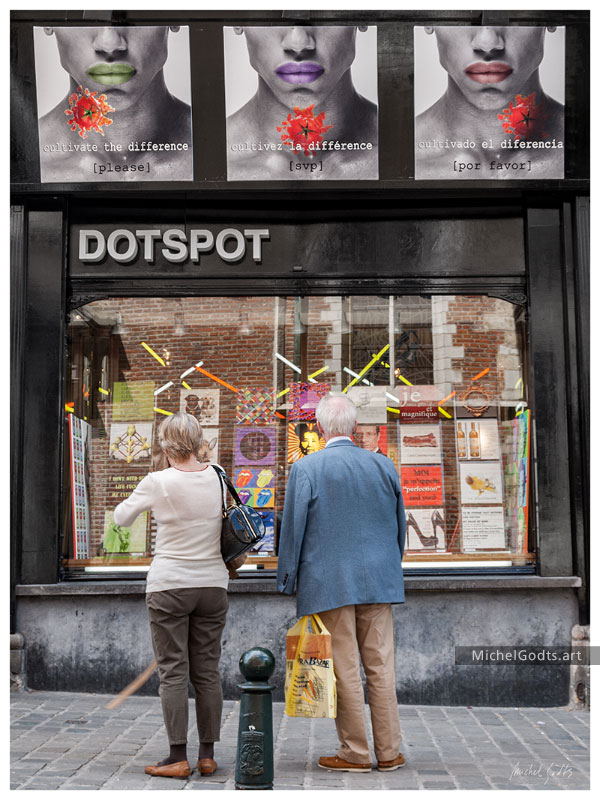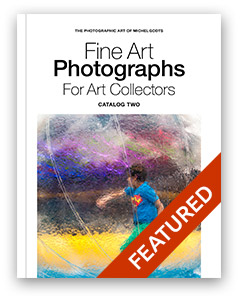 In street photography you often photograph a scene on the spur of the moment and it is only later that you understand why you did so. This photograph is an extreme case in point.
1) The image is a reflection about the cultural gap between generations. This is illustrated by the elderly couple watching a vitrine of mostly modern and provocative artwork prints that are designed for the taste and culture of a young generation, and by the message displayed in the posters above the vitrine: "cultivate the difference."
2) The composition combines squares within squares: black square framing the store, square posters filling the store's overhead, squared artwork prints in the vitrine. And, the angles from the store's neon lights are duplicated on the woman, man, and the rows of cobblestones.
3) On the sidewalk, the iron bollard with a round "dot" head seems to illustrate the store's name: DotSpot.
(Brussels, Belgium, May 2012)
Signed and Unsigned Wall Art Prints
Can be ordered as limited single edition prints or as unsigned photo prints.
Reproduction License
Interior decor art consultants and curators are welcome to contact me to discuss this artwork's reproduction license, customization, or special application.