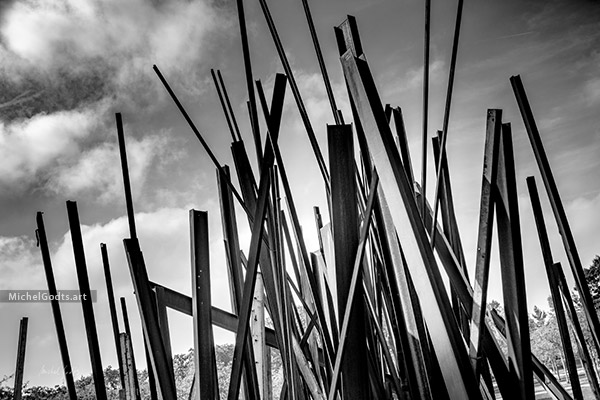 During an outdoor art performance, 100 steel beams were dropped from a large construction crane into an 8-foot-deep pit of wet concrete. Though partially controlled by USA artist Chris Burden, it is chance that created the pronounced angles and interaction between the various profiles. The final random arrangements evoke a primal force that expresses disorder, division and chaos. Burden saw this work as an abstract expressionist sculpture—like abstract expressionist painters threw paint at their canvases, he threw beams at the earth. (Antwerp, August 2018)
Burden performed three "Bean Drop" installations: Art Park, NY (1985); Inhotim, Brazil (2008); and this one at the Middelheim Open Air Sculpture Museum, Antwerp, Belgium (2009).
Signed and Unsigned Wall Art Prints
Can be ordered as limited single edition prints or as unsigned photo prints.
Reproduction License
Interior decor art consultants and curators are welcome to contact me to discuss this artwork's reproduction license, customization, or special application.